Do you remember how much you enjoyed milk when you were younger?
You don't?  Beg your pardon, but I was under the impression that the liquid staple for American children was milk?  This may be changing in our current time, but for many decades, milk was the white, opaque, fluid foundation for solid bones and healthy growth of children in this country.
Did you enjoy drinking regular milk?  Was it something that you looked forward to consuming? Perhaps it was, but there is a chance that regular milk failed to excite you a great deal.
But what of chocolate milk? Yes.  Surely many can recall the deliciousness of regular milk fortified with sweet decadent chocolate? Chocolate milk was a treat that anyone could look forward too.  Not to mention there was even the belief that it may have come from chocolate cows! Imagine that.
When young milk drinkers advance in age, often their liquid of choice changes from milk to meet their preferences at different stages in life.   In early adulthood, and well beyond, that liquid of choice can often be beer.
Beyond the early choice of beer, often, spirits become a drink of choice, and many times this spirit is bourbon.
Wouldn't it be a feat, if the best of all these liquid worlds were able to be combined?
Would that look like a milk stout?
Would that be a bourbon barrel aged beer?
Could it even be a bourbon barrel aged milk stout?
Is there a possibility, that there might be a bourbon barrel aged chocolate milk stout?
The answer is yes, to all of these questions.
The Bruery has produced an imperial stout aged in bourbon barrels with vanilla called All the Cows.  Impossibly, they have also released an imperial stout aged in bourbon barrels with vanilla and cacoa nibs called All the Chocolate Cows.
Certainly, a side-by-side comparison is warranted, by two discerning palates,  to see if chocolate truly is the deciding, differentiating, enhancement in flavor.
The Bruery – All the Cows: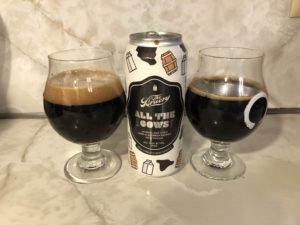 Judge #1 – This is a pitch black stout, that when poured vigorously into the glass, is topped with a thick mocha colored head that fades, fairly quickly.  The nose is prominently vanilla, with underlying notes of roasted barley, caramel, and milk; faint notes of bourbon and chocolate round out the olfactory presentation. The mouthfeel is medium bodied, and creamy, with the taste having strong vanilla at the forefront, which steps aside to make way for bourbon vanilla bean ice cream, subtle dark roast coffee with cream and sugar, and whipped cream.  This is liquid desert, that tastes more like slightly melted ice cream, than a 14% milk stout.  This is an absolute delight. My only critique would be the lack of bourbon taste in a supposed, bourbon-barrel aged stout, but in this case, the balance is so perfect, that I don't even care. 9.5/10
Judge #2 – Nothing surprising here on the appearance front, it's  dark, like my favorite strong coffee, while the glass is lined with a thin frothy latte-like rim. When put to the nose, I immediately get the scent of a condensed milk can being opened up. This is a smell that's inviting yet effortlessly simple, and certainly encourages you to take a sip. If you could imagine how silk would feel in liquid form, this would be it. The sweet, savory scent continues on the palette. Flavors of vanilla paired with buttery-bourbon come through and reminds me of a butterscotch flavored coffee. This is a perfect pairing of strong, bold flavors with an immaculate sugar ratio,  blending what should be varying flavors into a perfect harmony. 9/10
Let's see if chocolate additives make a difference……..
The Bruery – All the Chocolate Cows: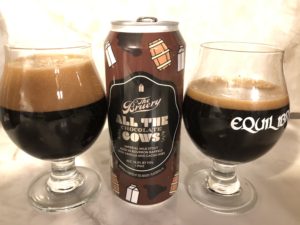 Judge #1 – Without surprise, this looks identical to the previous beer, therefore, there is little point repeating identical descriptors.  It is worth noting though, that the head seemed slightly more brown tinted, perhaps it's just because the can sitting next to the glass is brown.  There is far less vanilla in the nose of this beer.  The prominent vanilla notes are instead replaced by dark chocolate and cacao, or more appropriately, the scent of a freshly opened packet of instant cocoa.  There is less roastiness in the nose of this beer and instead, there are subtle notes of bubble gum and marshmallow.  The flavor is chocolate forward, with a creamy, vanilla tinged mid, followed by a candy sugar and cocoa-powder finish.  I taste no notes of bourbon whatsoever in this beer, and wish I did, as this offering seems a little muddy overall, and missing a bit of accent to round it out.  To me the chocolate milk (stout) doesn't up the game in the way that chocolate milk did to its plain variant.  8.0/10.0
Judge #2 – I think my fellow taste-tester and I can agree that these two libations look like identical twins. Although, when given a little shake in the glass, this beer appears to have more movement, dancing in the glass versus keeping to itself in the singles sitting area at a high school dance. When brought to the nose, you are practically opening a semi-dark Hershey's chocolate chip cooking bag – you want there to be more sweetness, but it's just not there. Fortunately, you can quickly move on from the aroma of this beer that doesn't leave you coming back for another sniff or leave you overly excited to take a sip. Upon first taste, and second, I have a confusing mixture of palette reactions. I taste some cocoa, coffee and toffee nut. Yet, none of those delightful flavors seem to pair well together in this beverage that is brought to us by a tried and true brewery that can deliver on the liquid tastes of the nearly every bakery item imaginable. 6.5/10.0
It appears that adult palates have determined, chocolate milk is not, in fact, superior to regular milk.  Actually, we have not determined this at all, as we weren't comparing milks, but milk stouts.   Maybe next time, we will actually try that as an option. (Likely we will not be publishing a discussion on that particular topic.)
Though this comparison has led to the determination that with these two beers, there is a clear winner, we still recognize that the Bruery continues to make fantastic beers, and recommend that if you can find these particular two to try, that you should certainly do so.
Humbly yours,
J